Urology Associates of Cape Cod is proud to welcome Dr. Xibei Jia, Cape Cod's first full-time, fellowship trained female Urogynecologist. Dr. Jia specializes in urinary control issues, pelvic floor problems and female reconstructive surgery. The women's health team at UACC is among the best in Massachusetts and is trained to properly diagnose and treat pelvic floor conditions. Dr. Jia believes in empowering her patients with the knowledge to improve their quality of life. 
It's important to share details with and seek treatment from a Urogynecologist if you're experiencing any of these symptoms: urinary leakage, frequent or painful urination, irritation or burning of the vulvar or vagina, the sensation of vaginal bulge or pelvic pressure.
Common Conditions Treated
Urinary incontinence
Overactive bladder
Pelvic organ prolapse
Postpartum pelvic floor dysfunctions
Urethral diverticula
Urogenital fistulas
Vaginal mesh excision
Interstitial cystitis
Fecal incontinence
Recurrent urinary tract infections
Hematuria
Office cystoscopy
Pessary fitting for prolapse and urinary incontinence
Urodynamics
Bladder Botox injections
Trigger point injections for pelvic floor muscle dysfunctions
Bladder instillations and hydrodistention for interstitial cystitis
Percutaneous tibial nerve stimulation (PTNS)
Sacral neuromodulations (SNM)
Midurethral slings
Urethral bulking agent injections
Vaginal, laparoscopic and robotic-assisted procedures for the treatment of pelvic organ prolapse
My name is Xibei Jia and I am passionate about providing quality care to women with urogynecologic issues. I am board-certified in Obstetrics and Gynecology and fellowship trained in Female Pelvic Medicine and Reconstructive Surgery. My clinical interests are treating women with urinary incontinence and pelvic floor dysfunctions. In my free time, I enjoy traveling, being outdoors and spending time with family and friends.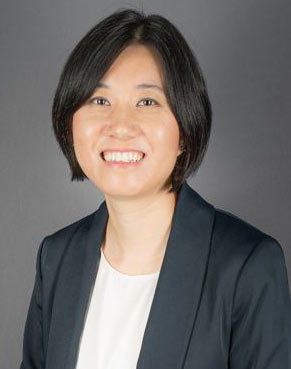 What is a urogynecologist?
A urogynecologist is a surgeon who specializes in the care of women with pelvic floor disorders.
What are pelvic floor disorders?
A group of conditions that affect the pelvic floor.
The pelvic floor prevents organs such as bowel, bladder, uterus or vagina from falling down or out of your body.
Pelvic floor disorder is due to weakened pelvic muscles, connective tissues and ligaments.
Who should see a urogynecologist?
Women with problems of prolapse, and/or troublesome urinary or fecal incontinence.